Well, punta me culo...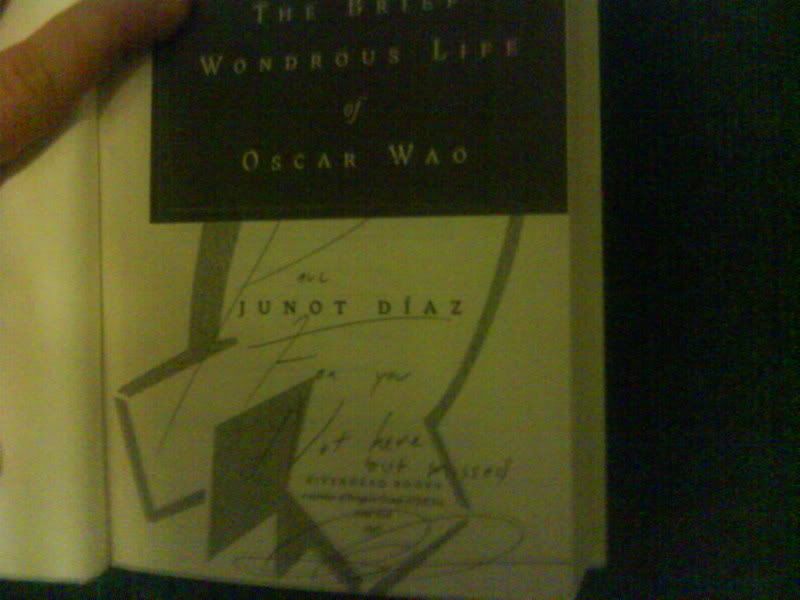 Junot Diaz's reading at FSU last night (part of
Seven Days of Opening Nights
) was incredible. At first, I was like, "Oh fuck I don't know ANYBODY here." And, "This is so fucking bourgeious compared to a Warehouse reading." I was small talking for no reason with a guy who recognized me in the elevator. It was that bad.
Then
Mark Hinson
, a buddy o' mine who did
this great article on Diaz's reading himself
, came in with the HARDBACK, pre-Pulitzer, copy of
"The Brief Wondrous Life of Oscar Wao"
I lent him months back.
He got it signed for me.
Hinson is the man.
I'll snap a picture of the signature and what Diaz wrote to me and post on here later. It's worth seeing.
(EDIT: Added up top.)
Usually, I wouldn't covet something like that. In fact, unless I know the author, kinda, I don't care all that much. But coming from Mark (who I didn't expect to return the book to me in a timely fashion much less, y'know, have Diaz SIGN IT FOR ME in absentia) it meant all the more. Plus, I didn't have to stand in the massive line for it after the reading, which was a plus.
Speaking of lines, the turnout was actually okay. Not what
David Sedaris
(whose show/career is sold out-- oh, snap!) is going to get or anything. Shit, they may as well pass out Borders Rewards cards and shake them down for public radio contributions while they've got all those old bookish liberals all in the same room.
But seriously, while I do want to see that reading, I would just not want to hang out with that kind of crowd, that sort of size and hell in that sort of large venue. Hence my worries about
the upcoming Girl Talk concert
.
Anyway, below is a video of selected clips from the lecture Diaz gave a small group of FSU english students yesterday afternoon at about 3 p.m.
Courtesy tallahassee.com
Btdubs:
Some guy named Eric
, a self-described "unpublished writer" (who I'm assuming is an English/Creative Writing student at FSU) blogged the video I've embedded above. Enjoy.